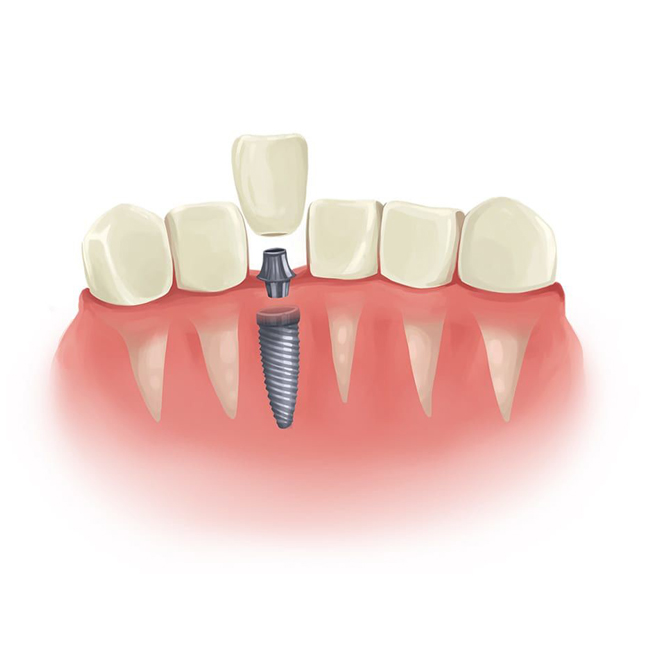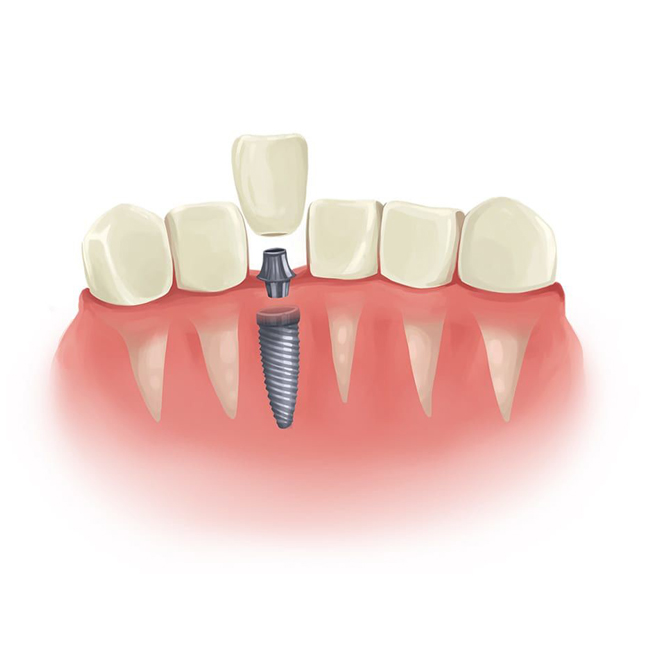 Sometimes your teeth may be damaged by various factors such as accidents, caries or .... These conditions can affect your appearance. For this purpose, it is better to take the necessary steps to repair or replace the damaged tooth. There are several treatments for damaged teeth. In this article, we want to acquaint you with the differences between dental implants and dental veneers. Follow us.
What is a dental implant?
When you lose your teeth, in addition to affecting your beauty, the function of your teeth also changes. In general, to maintain the density of the jawbone, it is necessary for the teeth to have good mobility. Because your teeth are in constant contact with each other throughout the day; Therefore, these pressures can have a direct effect on the jawbone.
In fact, these small, seemingly simple pressures can help regenerate your jawbone. Now imagine that you have lost one of your teeth. As a result, these stimuli, however small, disappear. The result is a small percentage loss of jaw bone width.
You may not feel the difference at first glance. But over time, your gum tissue will begin to recede as a result. As a result, after a while you will have problems with speech, chewing and health of your teeth.
Now imagine that you have lost more teeth. This can also have a detrimental effect on both your tooth function and your appearance. So that after a while you may suffer from jaw fractures, irregular movement of other teeth, etc. In such cases, some people use dental implants.
This method is used to replace damaged or missing teeth. In fact, it is a long-term treatment so that you can do daily routines such as eating, talking, singing, etc. like your natural teeth; Therefore, if you have a damaged or lost tooth, it is better to perform this treatment before it is too late.
Implant treatment method
In order to have an implant, in addition to the health of the jawbone, your gums must also be healthy so that you can perform this implant method. Titanium metal is used to implant teeth using this method. The specialist dentist manually places the metal on your jawbone. Over time, titanium will bond well to your jawbone. As a result, the metal becomes a permanent member of your jaw.
In fact, dental implants are placed on a solid base on your teeth. Other methods, such as dentures or dentures, may change the position or movement of your mouth. In addition, you will have restrictions on eating when using these methods. But with implanted teeth, you will not have any restrictions and the implanted teeth will be natural.
One of the positive features of the implant is that the adjacent teeth are not damaged during restoration. Because this method has its own screws and you will not need adjacent teeth to hold it firmly; Therefore, if you are one of those people who do not want to use dentures, we suggest you to use implants.
Tooth implants in front of veneers
If you are also wondering when to use a veneer and when to use a dental implant, we must say that each method depends on the severity of your tooth damage.
In the following situations, using a veneer is a good option for you:
• If your teeth are slightly damaged.
• If your teeth are stained.
• If you have a problem with the distance between the teeth.
• If you have trouble aligning your teeth.
In general, veneers are used only to correct the beauty of teeth and are not a good option to fill the gaps of fallen teeth. But if your teeth are severely damaged, or your teeth need a major repair, or your teeth have changed shape, using an implant will help you have a long-term treatment.
Using this method helps to keep all your teeth in the same direction and distance and fill the gaps well. This method of treatment has no infections and complications and you do not need to change it for the rest of your life. However, dental veneers need to be replaced or repaired after a few years.
Differences between implants and veneers
The use of dental implants or veneers depends on the problem of your teeth. You can use implants to replace a lost tooth. This is while the dental veneer has only the appearance and beauty aspect and gives you a better smile; Therefore, if you have healthy teeth, but problems such as stains, the distance between the teeth, etc. have affected your beauty, we recommend using veneers.
But if your dental problems are bigger and have affected your oral health and general condition, using implant treatment is a good option for you.
The final word
The veneers are placed on the surface of your tooth; So if they do not stick to your teeth properly, you may get gum disease in the future; Therefore, dental implants play a key role in oral health. Because these methods are very durable and stable and live like a natural tooth for many years.
If you have any questions or comments about any of these methods, you can share your comments with us under this post.